Newsletter

Stage Rehearsals 2017 Westville Civic.pdf
Added: 2017-10-20 14:41



Photo shoot times and dates 2017.pdf
Added: 2017-10-20 14:40



Production Newsletter 2017.pdf
Added: 2017-10-20 14:33


New studio A and B times
- 2017-04-10
New studio A and B times   Good day parents and dancers,   It is with much excitement that I can inform you that Studio B will be ready by 2nd term 2017 !.  Which means we can now do duel classes and finish our days earlier as from 2nd term. I would like to take this opportunity to thank all for the encouragement in this ...
more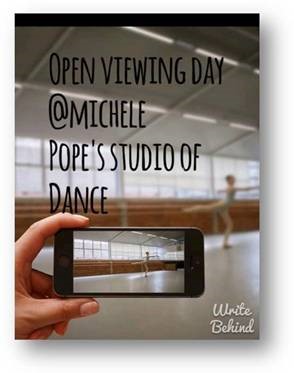 Newsletter 2
- 2017-04-10
Newsletter no 2 2017: Good day,   Open 'Viewing and video week'  Modern and Hip Hop :  We are pleased to announce that the studio is open to watch Modern and Hip Hop classes during the week 27th – 31st March 2017.  All family and friends are welcome and we would love you to support your dancer a...
more
Newsletter 1
- 2017-04-10
Good day,   Timetable for 2017: Below is our timetable for 2017.   Mondays: Advanced 2 Ballet 8:00- 9:30 Associate Modern  Mel 9:30-10:30 Preschool :Little Red Hen 12:30-1:00 Ballet: Pre Prima...
more